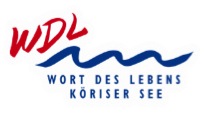 I've been invited again to teach 1000 years of Church History as a guest lecturer at the Wort des Lebens Esra-Training. (Word of Life Ezra Training) program in Heidesee, Germany, just outside of Berlin.
The Esra-Training program is designed for young adults and includes training in Bible, doctrine, church history, and a strong emphasis on hands-on ministry. Those of you familiar with the Word of Life Bible Institute in Schroon Lake, NY and Hudson, FL already know this kind of ministry and the impact it has on the lives of young people. So I'm excited and honored to be involved even in this limited, short-term capacity.
This will be my eighth year teaching this course, with no charge to Wort des Lebens for any expenses. Each year, by God's grace, I've been able to teach the course for free because of generous financial support from students, family members, friends, colleagues, and fellow church members. This year I'm hoping to do the same so that small but significant training program can continue to invite qualified teachers they wouldn't otherwise be able to afford.
This year's trip is coming up at the end of January, 2015 (that's only three months away!). I'm seeking both financial and prayer support this year. The financial portion, including airfare and travel within Germany, will be about $1500, give or take. But I also need prayer support leading up to and including the time I'm there. In particular, I'm asking for prayer for the following items:
For God's provision of finances, health, and safety both prior to the trip, during the week in Germany, and upon my return to the States.
For the students at Wort des Lebens Esra-Training, that they will learn and grow through the instruction and that the body of Christ worldwide would be equipped and strengthened through them.
For God's protection of my family while I'm away, and especially for patience and perseverance for Stephanie as she has to manage the increasingly busy schedules for Sophie, Lucas, and Nathan.
For the teaching time itself, which is mostly done through a translator, though I try to speak with, answer questions, and instruct in as much German as I can.
That God will be honored and glorified as I tell the history of the Church to many who have never heard it before.
Beyond keeping these things in prayer, if you can help me with financial support for this trip, please let me know. You can contact me at my work email address, which is my first initial (m) + my last name (svigel) + @dts.edu.