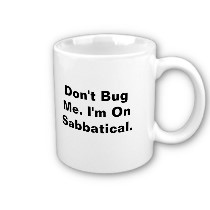 As I write this, I'm coming to the end of a half-year sabbatical. As a tenure-track professor at a seminary, I can request a sabbatical every six years. During this time I'm relieved of teaching and committee responsibilities and can focus on research, writing, publishing, course revisions and preparations, travel, and guest lecturing. I'm also blessed with some extra time for family. A sabbatical obviously isn't without cost to the institution, but my colleagues, who take on a little extra teaching load to cover the classes I'm not teaching, absorb most of the "cost," for which I'm very thankful.
Over the last few years I've become convinced that all churches—large and small—should offer their full time pastors a half-year sabbatical every six years. I believe that such a period of rest would be just as appropriate—if not more appropriate—for full time pastors in church ministry as it is for professors in academic service. Like professors, pastors have both an up-front and behind-the-scenes ministry that requires a lot of their time beyond a normal 9 to 5 work day. Their preparations for Sunday services, mid-week programs, early morning and late night meetings, scheduled counseling sessions, hospital calls and home visits, and countless other activities make their calendars look more like block quotes than bullet-points. While many Christians only see a pastor in action a few hours a week, they're witnessing a thin layer of snow atop a very large iceberg of responsibilities. Only the most ignorant churchgoer thinks the pastoral vocation is a "cushy" weekend job.
Let me state a few reasons why I've come to the conviction that pastors need sabbaticals.
First, pastors need time to catch their breath. Like a field that needs to lie fallow for the land to reclaim its nutrients for future crops, pastors needs time to rest, reflect, and recharge to better serve their fields of ministry. They need to be able to catch up on the latest biblical, theological, historical, and pastoral scholarship that has mounted since their seminary days. They need to devote time to personal prayer, meditation, and fellowship beyond their "always-on" role as shepherd. They need time with their spouses, children, grandchildren, and other friends and relatives that tend to become spokes on a wheel during the weekly revolutions of ministry life. Pastors just need a block of time to catch their breath, and in a vocation as all consuming as church ministry, one day a week just isn't enough.
Second, pastors need to reflect and plan. At least every six years pastors need to set aside time to reflect on their ministry's past, present, and future. Outside of the bustle of everyday ministry demands, pastors can consider where the church is and where it needs to be. This may involve both minor and significant changes in structures and programs, but it may also include themes for instruction and message planning. During sabbatical time, pastors can lay the foundation for sermons, engage in research and writing to aid them in future ministry, and finally get around to reading those books they set aside over the last few years. No weekend or even weeklong pastor's conference can provide the kind of time and space needed to reflect and plan.
Third, pastors need to give their congregations a chance to exercise their gifts. The pastor's main role is to equip the saints for the work of the ministry (Eph. 4:11ff.). While the pastor's on the clock, in the office, or behind the pulpit, it's very easy for church members to forget that they're the ones who are supposed to be doing the work of the ministry that builds up the body of Christ. As pastors look forward to and prepare for a sabbatical, they will be forced to equip fellow leaders to step up and take on responsibilities while they're away. This will give leaders-in-training opportunities to exercise their gifts of teaching, preaching, and leading. A pastoral sabbatical isn't just for the sake of the pastor, but also for the church itself.  When pastors are away, other leaders-in-training or associate pastors will gain needed experience in carrying out pastoral duties.
Yes, a sabbatical like this would be costly . . . but not devastating. However, I believe the spiritual and practical benefits of pastoral sabbaticals would far outweigh the financial cost to a church. Of course, the absence of a pastor might reveal weaknesses in the congregation . . . expose a lack of preparation for qualified leaders . . . or highlight the need for additional training and growth. But wouldn't these all be good things in the long run?
I know that not all pastors would want a sabbatical. However, I think most would welcome such an arrangement with overwhelming eagerness and gratitude.
So, why not seriously discuss the possibility of instituting a half-year sabbatical for your full time pastors?