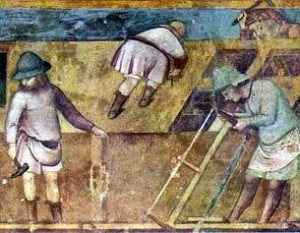 As a seminary professor, I'm often asked why anybody would want or need graduate-level studies devoted to biblical, theological, historical, and practical training in preparation for Christian ministry (a.k.a. "seminary"). Most of the time, this question springs from a genuine curiosity or interest in seminary studies. But other times the inquiry betrays the underlying assumption that seminary is both unnecessary and unhelpful (or sometimes even dangerous).
Sometimes I hear people say things like, "Well, the disciples never went to seminary. They were just simple blue-collar tradesmen without any doctrinal or practical training. Therefore, seminary isn't necessary." This objection is pretty easy to dismiss. The disciples weren't uneducated, self-trained, amateurs. Actually, they had three years of twenty-four/seven first-hand teaching and side-by-side experience in the presence of the God-Man, Jesus Christ. If you had that kind of training, I'd excuse you from seminary. In fact, I'd trade in my own Bible college degree, Master of Theology diploma, and Ph.D. for those three unaccredited years at the feet of the Savior.
Other times people say, "Mega-church Pastor So-and-So doesn't have any seminary training, and he has a successful and fruitful ministry; therefore, seminary isn't helpful." I have two answers for this objection.  First, larger numbers and bigger budgets don't mean the untrained celebrity pastor is "successful" in God's eyes. All too often I see teachings and practices in the ministries of such untrained pastors that reveal an ignorance of central gospel truths, theological imbalance, or pragmatically-driven ministry models. Be careful how you define and identify "successful and fruitful ministry." Second, just imagine how much more successful and fruitful a sufficiently-trained pastor might be with the same gifts!
Occasionally I have people who scoff at seminary, claiming to be self-taught Bible students who want or need no formal instruction. They have an underlying distrust and even animosity toward formal training—"Seminary is dangerous!" They believe biblical scholars and theologians have no advantage in reading, interpreting, and teaching God's Word. Sometimes they think seminary training just complicates a person's simple faith. Or occasionally they appeal to the Holy Spirit as their only teacher, usually appealing to 1 John 2:27. To this train of thought, I respond with the following six points. First, it's usually only those who don't have quality seminary training who are convinced they don't need it. But how would they know whether they could benefit from something they've never had? Second, if "a pupil is not above his teacher" (Luke 6:40), then those who are self-taught will never rise above their own idiosyncrasies. Simply put, people who are self-taught haven't had qualified teachers. Third, Paul encouraged the Corinthian believers, "Do not be children in your thinking. Be infants in evil, but in your thinking be mature" (1 Cor. 14:20).  And the author of Hebrews castigated his readers for being "dull of hearing," remaining children in their knowledge, requiring somebody to re-teach them the basic principles of the faith when they should actually be teachers (Heb. 5:11–14). Clearly, he expected them to continue to learn and grow in their knowledge beyond infancy and simplicity. Fifth, Peter warned that those who are "untaught" (the Greek term literally means those who have not received formal teaching) were more likely to twist the Scriptures to their own destruction (2 Pet. 3:16). The corollary to this is that those who have received formal training are less likely to be unstable in their doctrine and less likely to twist Scripture into a doctrinal hang-man's noose. Finally, nobody should deny that the ultimate teacher of truth is the Holy Spirit. However, the Holy Spirit carries out His teaching ministry by gifting teachers in the church, whose responsibility it is to teach believers (Rom. 12:7; 1 Cor. 12:28–29; Gal. 6:6; Eph. 4:11; 1 Tim. 3:2; 4:13, 16; 5:17; 2 Tim. 2:2, 24; 4:2; Heb. 5:12; Jas. 3:1).
So, if there aren't compelling arguments against seminary training, what positive benefits are gained through seminary? Why should those called to Christian ministry go through a graduate program of biblical, theological, historical, and practical training? Why would we spend all that time, money, and energy on a two-to-four (or more) year course of study? If we aren't going to get a degree to make more money or to be inspired to live a better Christian life . . . why would we endure seminary studies? To answer the "Why Seminary?" question, let me use the analogy of home improvement.  A complete seminary program equips believers for faithful and fruitful ministry by: 1) cleaning out doctrinal junk, 2) rearranging doctrinal furniture, 3) remodeling doctrinal structures, and 4) firming up doctrinal foundations.
First, a quality seminary education will successfully clean out doctrinal junk. If you've ever watched Hoarders, you know that those with a hoarding disorder always need outside help. They have completely lost the ability to discern between what to keep versus what to throw . . . what's healthy and beneficial versus what's unhealthy and damaging. Only a person with an objective perspective who lives outside the home can see what the hoarder can't—that they have accrued unnecessary, useless, worthless, and sometimes even unhealthy and dangerous junk. Similarly, seminary should challenge students' "folk theology"—cliché, debunked, or exaggerated doctrines and practices that have little or no foundation in Scripture, history, or sometimes even orthodoxy. Good seminary training will open the doors and windows of a person's beliefs and practices, providing opportunity to haul out the useless and damaging doctrinal junk, airing out errors and shedding light on oddities. Of course, like hoarders, it's always up to the student to "clean house" when necessary.
Second, a seminary education will skillfully rearrange doctrinal furniture. Every home I've been in has a number of chairs, a table or two, a sofa or so, permanent and moveable fixtures, and other furnishings that make a house a home. But some homes are better coordinated and decorated than others. Picture the difference between a bachelor's haunt and the White House . . . or the furniture section of a local thrift store and the mock-ups at Ikea . . . or the typical college dorm room and a suite at a Hilton. Yes, the haphazard furniture functions just fine, but the set-up lacks symmetry, proportion, and beauty. And amateur "homemakers" have a tendency to constantly rearrange things, striving to achieve an elusive balance . . . or at least keeping guests from constantly bumping into and tripping over everything. In the same way, most lay people who lack seminary training have all (or most) of the essential elements of a functional Christian theology, but they almost always lack a centering theological principle, a biblical narrative arc, or a sense of how the smaller and larger pieces of the doctrinal puzzle fit together as a whole. Quality seminary training provides a balanced, full-bodied arrangement of Bible, theology, history, practical ministry, and other essential elements. No vital element will be missing. No portion will be inappropriately exaggerated. No central elements will be shoved off to the side. By submitting to a complete degree program in a seminary context, graduates can rest assured that they have been exposed to a tried-and-true arrangement of the furnishings and fixtures of Christian theology.
Third, a quality seminary education will help students remodel doctrinal structures. This goes beyond merely superficial rearrangement and proportion. Sometimes seminarians need major deconstruction and reconstruction of their doctrinal convictions. Oftentimes students come from a theological ghetto that has minimized or exaggerated certain beliefs and practices. They have been baptized into one confession that never challenged them to think critically about their own tradition. Or they have been raised in one way of doing ministry and have never considered whether such a model is the most culturally appropriate or even biblically faithful way of doing things. In my own experience, Christians from a free church or low church background have no room in their doctrinal home for a biblically, theologically, and historically faithful doctrine and practice of the sacraments. Remodeling will make room. Christians from a liturgical or high church background often can't imagine a time in history when the church didn't have this or that particular form of worship . . . nor can they appreciate the liturgical diversity in the Christian tradition. Remodeling will make space for models of worship that were previously unfamiliar. Many pragmatically-driven Christians don't have a completely accurate and healthy understanding of such fundamental doctrines as the Trinity, the person and work of Christ, the inspiration and authority of Scripture, or even the Gospel. Remodeling will repair the walls that protect and promote these vital truths. Some Christians with very narrow church backgrounds—especially those who have been to a Bible College—will have an opportunity to revisit some of the structures they received without question . . . or at least without a full awareness of the diverse perspectives within orthodox protestant evangelicalism. Quality seminary training provides a safe, cautious, constructive, and expertly-guided opportunity for substantial remodeling of one's doctrinal structures prior to engaging in full time Christian ministry. This is vital, because once a person is in the thick of ministry, a faulty and flimsy structure can collapse under pressure and a radical or reactionary "gutting" of one's theology can destroy a church. Seminary, not ministry, is the place to get your theological house in order.
Finally, a seminary education will firm up doctrinal and practical foundations. Seminary doesn't answer all biblical and theological questions, but a balanced seminary curriculum will equip future leaders with the language skills, interpretational methods, theological framework, and historical backgrounds necessary for tackling these questions on their own. It moves the learner from the level of parroting canned, cliché responses to predictable questions to the level of thinking through new questions and providing compelling answers. It moves a Christian from the passive and unconscious acceptance of the core doctrines of the faith to a place where he or she can actively and consciously understand, articulate, and defend these doctrines. By firming up the foundations of the Christian faith, seminary will instill confidence in future pastors and ministers. Seminary training will shorten the preparation time needed to put together biblically faithful, theologically sound, and practically compelling sermons and lessons because most of the foundation work will have already been done. Just as a firm foundation will keep a building from teetering when the earth shakes and the storms blow in, a well-balanced seminary training will stabilize a person's life of ministry, preventing him or her from swaying with every wind of doctrine or crumbling like those whose ministries are built on a foundation of shifting sands.
When it comes to the need for seminary-trained church leaders, I admit that my perspective is biased, prejudiced, and one-sided. After all, I've devoted my life to teaching future pastors, teachers, evangelists, missionaries, and lay leaders. But my perspective on the value of seminary training isn't an effect of my position as a seminary professor; my dedication to teaching as a seminary professor is motivated by my conviction that seminary training is needed today more than ever. No meandering internet reading sprees can replace seminary's planned, balanced, curricular approach. No narrow, in-church training program can compete with seminary's full-bodied education by diverse pastor-scholars who are experts in their fields. And no amount of practical ministry experience can fill in the inevitable gaps in biblical, theological, and historical knowledge needed to face the questions and challenges bombarding believers in our post-modern, post-Christian world. Yes, I'm sold-out for seminary training. But I have good reasons to be.
So, then, why seminary?
Why not?