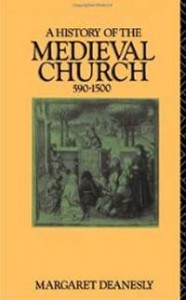 Over the course of her career Margaret Deanesly bequeathed upon the twentieth century church numerous publications that grant non-experts access to the often confusing world of medieval Christian studies. Indeed, this matriarch of medievalism helped to shed light on what is for many Protestants a vast darkness marring a millennium of otherwise perfectly useful history.
From her 1920 study on the Bible of the Lollards, to several studies on the history of the Church of England, she has led countless travelers—novices and experts alike—on a tour of both the back roads and broadways of the church of the Middle Ages. A History of the Medieval Church 590–1500 has functioned as the summula of her work (one might be tempted to call it her magnum opus, if not for its short length—just 283 pages).
As a help for those interested in reading (or teaching) through this excellent work, I'm sharing with you the reading guide I've used in my HT225—Theology of the Middle Ages course at Dallas Theological Seminary.
Feel free to modify this to suit your needs.