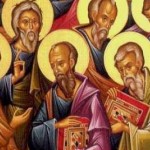 DId Christianity begin as a tangle of squabbling followers putting their own spins on Jesus's life and teachings? Did many Christianities with different "Jesuses" strive for dominance? Did one form of Christianity achieve victory, only to squash its opponents and rewrite its own history?
Dr. Darrell Bock and I recently discussed this theme in a Dallas Seminary Cultural Engagement Chapel. In this brief presentation we barely scratch the surface of this topic. You can watch the dialogue here.
[My basic introductory booklet I mention in the video on this topic is entitled Heroes and Heretics: Solving the Modern Mystery of the Ancient Church, and it's available here. For those few of you interested in a detailed discussion of historiographical presuppositions involved in the debate, check out my essay, "'You got to know when to hold 'em': Trumping the Bauer Thesis."]


The PowerPoint Slides in the video are available here: Christianity or Christianities PowerPoint Slides
This and many other important topics will be discussed at The Table conference, "Presenting God to Those Who See Christianity Differently," to be held on April 19-20 at Bent Tree Bible Fellowship.